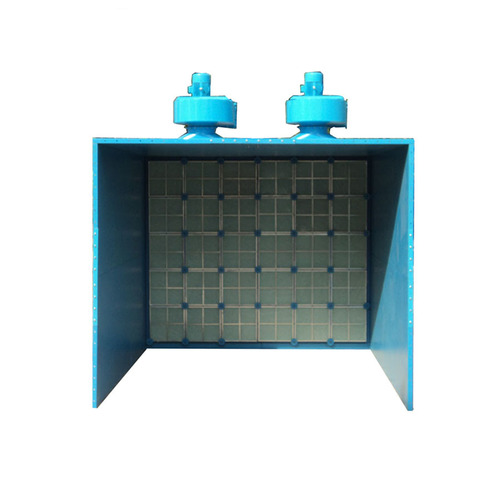 Dry Spray Paint Booth
Product Description
Believing on fair business policies, we are providing excellent quality Dry Spray Paint Booth in different specifications. The offered booth is manufactured with the aid of highly advanced techniques using excellent quality components under the supervision of experienced professionals. This booth is suitable for painting cars, bikes or various other machinery with ease. Moreover, our clients can avail the provided Dry Spray Paint Booth in standard as well as customized specifications from us.

Dynavac offers a wide variety of DRY SPRAY PAINT BOOTHS. The primary difference between the Dry Spray Painting Booth and the Water Wash Spray Painting Booth is that in place of a water curtain, the dry back has a dry paint arresting filter. This eliminates the requirement for a water tank, pump etc. making it more cost effective.

Features:
Economical
Dynamically balanced centrifugal fan
Centrifugal fan capacity ensure removal of paint over spray and comfort to operator
Bolted panel construction for easy assembly
Flame and explosion proof motor (Optional)
Good Illumination by fluorescent lamps
Description:
Paint Booth Type
Dry Back
Filter Medium
Paint Arrestant Filter
Left, Right and Top panels
Mild Steel 2 mm thickness
Exhaust hood connect to fan inlet
Mild Steel 1.6 mm thickness
Control Panel
DOL starter
ON/OFF Push button for exhaust fan
Accessories light
Flame proof fluorescent Light 2 x 40 W
Cable connection Included From control panel to exhaust fan.
Technical Specification:
| | | | | | | | |
| --- | --- | --- | --- | --- | --- | --- | --- |
| Model | Power Supply | Air Flow (CMH) | Max component size (Width x Height x Depth) in mm | Exhaust Fan (Centrifugal Fan -MS) | Static Pressure (mm of H2O) | Speed (Rpm) | W X H X D in (mm) |
| PB D 70 | 3 , 50 HZ, 415 V | 8640 | 1500 x 1200 x 800 | 7.5 HP | 100 | 1440 | 2000X 2000 X 1500 |
| PB D 30 | 3 , 50 HZ, 415 V | 4320 | 600 x 1200 x 800 | 3 HP | 100 | 1440 | 1000X 2000 X 1500 |
| PB D 20 | 3 , 50 HZ, 415 V | 2160 | 600 x 600 x 800 | 2 HP | 100 | 1440 | 1000X 1000 X 1500 |
DESCRIPTION




Paint Booth Type

Dry Back

Filter Medium

Paint Arrestant Filter

Left, Right and Top panels

Mild Steel 2 mm thickness

Exhaust hood connect to fan inlet

Mild Steel 1.6 mm thickness

Control Panel

DOL starter

ON/OFF Push button for exhaust fan

Accessories light

Flame proof fluorescent Light

2 x 40 W

Cable connection

Included

From control panel to exhaust fan

Max component size (Width x Height x Depth) in mm

1500 x 1200 x 800

600 x 1200 x 800

600 x 600 x 800

Model

PB D 70

PB D 30

PB D 20

Width A in mm

2000

1000

1000

Height B in mm

2000

2000

1000

Depth C in mm

1500

1500

1500

Exhaust Fan (Centrifugal Fan - MS)

7.5 HP

3 HP

2 HP

Power Supply

3 Ø , 50 HZ, 415 V

3 Ø , 50 HZ, 415 V

3 Ø , 50 HZ, 415 V

Air Flow (CMH)

8640

4320

2160

Static Pressure (mm of H2O)

100

100

100

Speed (Rpm)

1440

1440

1440